Structural Design Associates – STRUCTURAL ENGINEERS –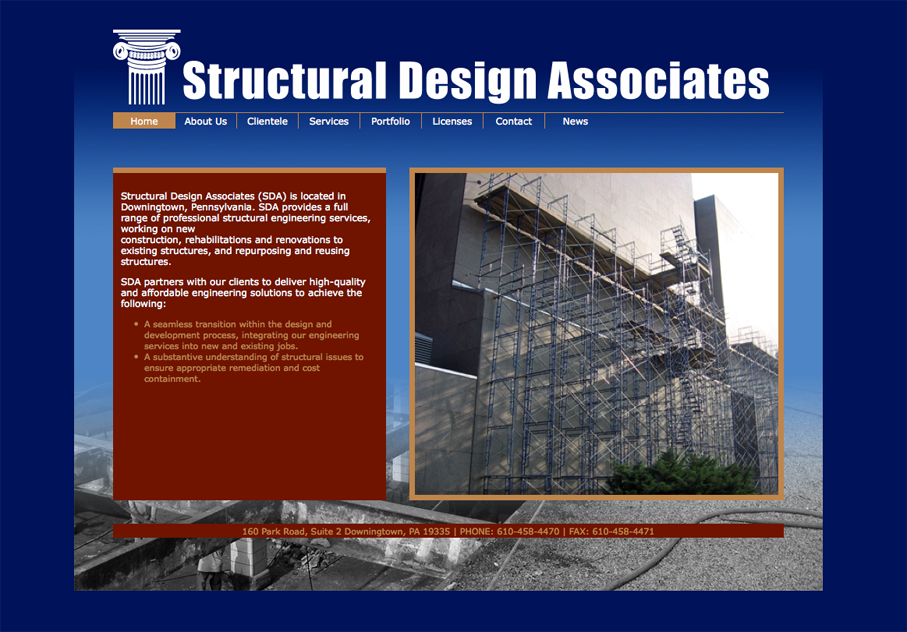 Structural Design Associates – STRUCTURAL ENGINEERS
www.structuraldesignassociates.com
The Principal
Andrew has over 15+ years of service in the structural engineering field. He has significant experience in the restoration of historic structures. He has also worked extensively in the preparation of design documents for remedial repairs, including historic restoration, concrete rehabilitation, sealants, waterproofing systems, windows, storefronts, and roofing systems. He has also testified on several occasions as an expert witness with respect to structural and waterproofing issues.
Education
University of Maryland
Master of Science in Structural Engineering
Drexel University
Bachelor of Art in Architecture (60% complete)
Bachelor of Science in Architectural Engineering
Bachelor of Science in Civil Engineering
Professional Engineering Registration Licensed Professional Engineer in the following states:
Connecticut
Delaware
Maryland
Massachucets
New Jersey
New York
Pennsylvania
Rhode Island
Virginia
Certifications
ACI Concrete Field Testing – Grade 1
International Concrete Repair Institute
Community Associations Institute
The Staff
All SDA engineers have their Professional Engineering (P.E.) certification. All have either B.S. or M.S. degrees in Engineering and have collectively worked in this industry for +20 years.
The Office
SDA is located in scenic Downingtown, Pennsylvania. SDA is fully networked with large format plotters, scanners, and color printers. All engineers are equipped with personal laptop computers that enable them to work in-office, as well as remotely in our client's offices, as needed.
Structural Design Associates
160 Park Road, Suite 2
Downingtown, PA 19335
610-458-4470
www.structuraldesignassociates.com