AWayne Business Association, Wayne PA – ASSOCIATIONS –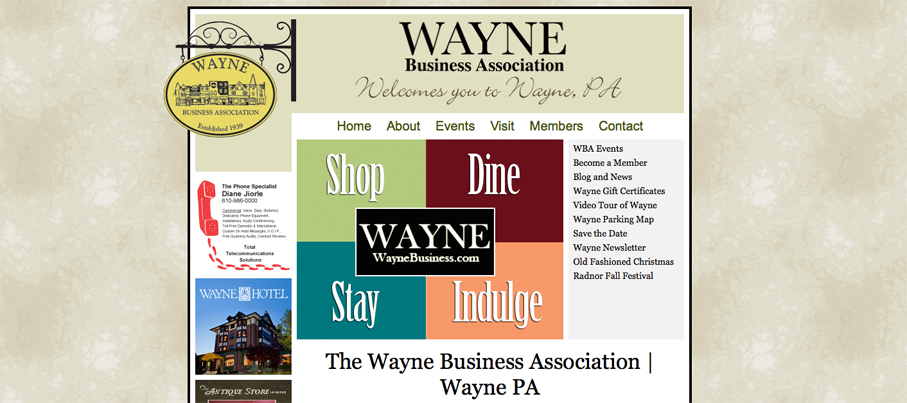 Wayne Business Association, Wayne PA – ASSOCIATIONS
The Wayne Business Association (WBA) is a large vital group of diversified businesses and non-profit organizations. Established in 1939, the mission was, and still is, to promote the business, professional, and civic interests of the community. The WBA's board of directors is constantly working to further those interests.
The WBA is voluntary organization that coordinates and sponsors an array of fun, family oriented events such as the Radnor Fall Festival, The Olde Fashioned Christmas Tree Lighting Ceremony, The Santa Parade, the Mad Anthony Days of Wayne Celebration, the Memorial Day Parade, the Jazz Festival, as well as numerous Side Walk Events throughout the year. Additionally, the WBA ensures Wayne is always looking its best with seasonal flower pots and street decorations. These activities are funded by a combination of sponsorships and membership dues.
One of the WBA's most successful programs is the Gift Certificate program, which strives to promote buying local. WBA members are invited to participate in this program and have access to a host of other benefits with their membership dues.
As a way to give back to the community, the WBA also funds a number of scholarship awards.
The Membership meetings are a great place to network and are held on the third Thursday of every month except July, August, and December.
Wayne Business Association
P.O. Box 50
Wayne, PA 19087
610-687-7698
www.waynebusiness.com