Yerkes Associates, Inc. – CIVIL ENGINEERS –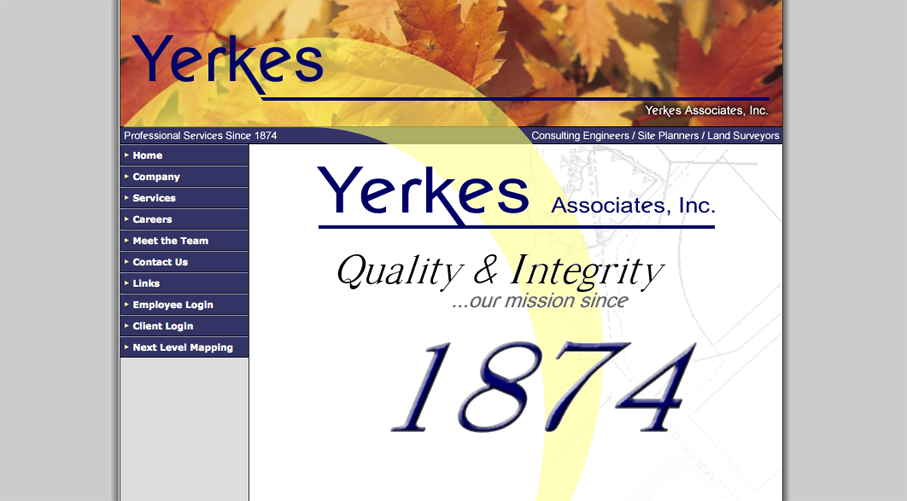 Yerkes Associates, Inc. – CIVIL ENGINEERS
About Yerkes Associates, Inc. Company History
Quality, integrity and the ability to get the job done right – the first time – has been the mission of Yerkes Associates, Inc. for more than a century.
Founded as land surveyors in 1874, the firm now offers expanded operations with offices in West Chester and Rosemont. Our staff of engineers, planners, and surveyors handles projects from conception to completion for clients for Pennsylvania to Florida and even Hawaii.
Versatility is our trademark. We provide services to municipalities, institutions, churches, commercial and industrial clients and individuals. Projects range from small additions to regional mall complexes and individual lot utility designs to large municipal water and sewage system designs.
How We Serve You Best
Our staff of over 50 professionals turns your ideas into reality. You are involved in the planning process, clearly defining your needs so we can achieve the results you expect-on time and within your budget. With your criteria in mind, we recommend long lasting, cost effective solutions.
After you choose the best option, we engineer and design your project from start to finish.
Our in-depth knowledge of the technical, social and political requirements enables you to work quickly through the governmental process when obtaining necessary reviews, approvals and permits. We then assist you in the bidding and awarding of contracts, construction layout and inspection of the work.
What Does This Mean For Our Clients?
You save time and money with our "one stop" consulting services. A job done right the first time results in substantial savings in construction, operation and maintenance costs. Plus, you enjoy good two-way communications and exceptional personalized service.
Our clients like this approach, with some 75% either "repeat or referral" business. Our roster of satisfied clients reads like a Who's Who in the Delaware Valley, including such prestigious names as Bryn Mawr College, Liberty Property Trust, Villanova University, Brandywine Realty Trust, Main Line Health, SAP America, The Rouse Companies, Radnor Township and hundreds more.
Yerkes Associates, Inc.
919 Conestoga Road
Building 3 Suite 110
Rosemont, PA 19010
610-525-6200
www.yerkes-assoc.com